A Smart Print Manager Helps with Budget Limits



O&K Print Watch is a server side print manager. This print audit tool lets users control print jobs, paper usage and collect statistics from the print servers. With O&K Print Watch you can define printing quotas for your users that depend on a number of different printing limits. O&K Print Watch creates a wide array of reports, which are available for viewing even from a web browser. These features give users full control over any printer in a home or corporate network.

Now you can specify a printing "budget" by setting limits on the number of pages that can be printed or the total cost of a printed document. Let's say, for example, your employees are printing too many images on an expensive color laser printer. You can set up a printing quota to limit printing based on the number of pages in a document for this printer. Or, you can specify keywords and no document with these keywords in its name will ever be printed. If you would like to know what was in the document named "Doc1.doc", you can select the option that saves a print job as an image and open an image of a printed document in a built-in image viewer.



O&K Printer Viewer - PCL, Postscript, HP-GL/2, EMF Spool file viewer.



The main purpose of O&K Printer Viewer is -

O&K Printer Viewer is a tool for viewing printed files. This program will help you view what you or someone else prints on your printer. You can view each document printed on your printer, print it again or save as PDF or a graphic file, such as BMP, GIF, JPEG or TIFF.


---

O&K Print Router - Redirecting print jobs and load balancing printers.



Redirecting print, load balancing for printers, print speed up the process. Automatic load balancing allows you to select the most affordable and ready to print the printer. This allows you to evenly distribute print documents on your printer and significantly reduce the time of printing documents. Each copy of a printed document is saved as a PDF.


---

O&K Work Spy - Tool for collecting the exact statistics of what the user does in real time.



The main purpose of O&K Work Spy is -

How to evaluate what your employees spend their office hours on?
How effectively do they use this time?
What do they spend most of it on?

The O&K Work Spy program is used to answer these and other questions.


---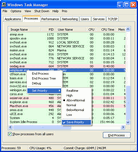 Prio is a utility for saving the priority of applications.



The main purpose of Prio is -

1. Saving the priority of each process.
2. Detecting the full path to the executable file and providing detailed information about it from the name of the process in the list of running processes in Windows Task Manager.
3. Viewing services hosted by processes.
4. Quick access to system services and controlling them.
5. Analyzing the current TCP/IP connections of the computer.